About Interference
---
Interference are the legendary Irish band based around singer-songwriter, painter and poet Fergus O'Farrell.
Their sound has influenced a generation of Irish musicians, and are featured in the hit movie's 'Sing Street' and 'Once' and  the Tony Award winning Broadway musical of the same name.
O'Farrell passed away in february of 2016 but interference continue to carry his flame forwards.
The original central core worked as a live band to great acclaim in the 90s. This led to an album where many great and famous extra folks contributed. (see The Cast below) Fergus simply attracts collaboration. Taking up residence for a time in abandoned Winstanley Shoe Factory, hosting jam sessions with many of the Dublin bands of the time including 'The Hot House Flowers', 'The Stunning' 'The Frames', The Mary Janes' and 'The Black Velvet Band".
Interference built their own studio in Winstanleys where they recorded their debut album and first two singles
Fergus co-wrote and often shared his stage with Colin Vearncombe aka Black, Dave Bickley/Hyper[borea], Gavin Friday and The Man Seezer, Maria Doyle Kennedy & Kieran Kennedy, Glen Hansard, Liam O Maonlaoi, Mundy, Nina Hynes and Paul Tiernan to name but a few.
Many Interference songs are written with lyricist Malcolm MacClancy, whom O'Farrell befriended and has worked with since they attended school together in Clongowes Wood College.
Interference can be seen performing the O'Farrell composition 'Gold' in the Academy award winning and box-office hit film 'Once', starring Glen Hansard and Marketa Irglova. The song has become synomonous with the Broadway musical show inspired by the film and is often the song of choice for the cast to perform on Television and promotional appearances.
Interference have also had songs included in the soundtracks for Alan Gilsenan's 'All Soul's Day' and Damien O'Donnell's 'Inside I'm Dancing." Both critically acclaimed films .
In the mid noughties a resurgence of popular interest in the band – which has maintained over the years one of the most loyal followings in the business – Philip King started playing Interference on his "South Wind Blows" RTE radio show every week. The public reacted, which encouraged Philip to book Interference as the first act for a new half hour TV show in a series highlighting music which operates outside the normal boundries of the industry. This series "Other Voices" was launched with live performances on a special Live 'Mystery Train' programme on RTE2FM with John Kelly broadcast from Vicar Street in Dublin.
RTE memorably billed the band as "Almost mythical, definitely legendary."
Other Voices has gone on to become Irelands leading and most important music programme and has grown in stature to include having its own stage at several music festivals and hosting artists from all over the world.
Such was the reaction to the 'Other Voices' show that a live concert CD of the Interference television performance was made available. Interference have returned to 'Other Voices' no less then three times, including a one hour 'interference' special episdode.
An inspiring development of the last few years was Interference's conquering of the hearts of audiences in the Czech Republic and Slovakia with Fergus recently joined by Bertrand Galen on Cello and Marja Gaynor on violin who had replaced Kevin Murphy and Colm McCaughey from the original line up, (fresh from their world tour as one half of the Swell Season with Glen Hansard and Marketa Irglova) , and Paul Tiernan the troubador, on guitar and backing vocals,  long time friend of the band and O'Farrell colloborator.
'Irish night' in The Namest Folk Festival is a very special occasion, noble souls putting it out for lovers who listen in the medieval courtyard of Namest Castle. In 2006 the others on stage included Paul Noonan with BellX1 and Glen Hansard. Their performance on Irish night is available on a live CD called 'Irsky Den'
but only if you know where to find it!
In 2007 Interference headlined an Irish music festival in Bologna over St.Patrick's weekend and Fergus and co returned to Czech playing eleven dates in nine nights across the Czech Republic, Slovakia and Poland in a new musical conglomerate known as 'DogTail Soup', a west cork supergroup, also featuring Colin 'Black' Vearncombe (he of 'Wonderful Life' fame), Paul Tiernan, Maurice Seezer and Camilla Griehsel.
Interference continued to perform infrequently as did DogTail Soup throughout the remaining noughties, now including Black, Seezer, Camilla, Paul Tiernan, Bertrand and Marja alongside John Fitzgerald and Anthony Noonan. Work began on the long awaited second album, this was to prove a near decade long journey, O'Farrell's health was deteriorating, which led to long periods of inactivity. A film project began too, Michael McCormack filmed O'Farrell and his world for over ten years, the resulting award winning film documentary is an extraordinarly beautiful film chronicling the story of O'Farrell and interference from its origins in school where Fergus, James and Malcolm first met, through the winstanley years, his return to west cork, falling in love, the breakthrough with Gold and the resulting majestic performance in Radio City Music Hall , the europen tours and on to the slow decline, and the last recording sessions….
'Breaking Out' the film was due a cinema release in 2020 but has been postponed due to covid19 restrictions. The film will hit the screens soon and expect a supporting Live tour from the band and an accompaning soundtrack album.
The Band has continued to perform without Fergus with Glen Hansard doing the honours on lead vocals, selling out every show they've played both here in Ireland and abroad, like 2017's Electric Picnic, headlining friday night on Jerry Fish's Electric Sideshow and the following years Clonakilty Guitar Festival, after pefroming across the Czech Republic where they returned in 2018 in honour of Fergus to headline across a series of Festivals over ten days. In 2018 Interference were inducted by the Trinity Musical Society to the College Faculty in honour of their contribution to Irish Music.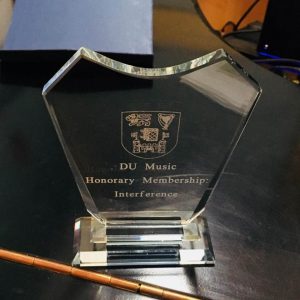 This story is not over yet.
2023 Current Players
Glen Hansard [Vox/Guitars], James O'Leary [Guitars/Ebow], Camilla Griehsel [Vox], Paul Tiernan [Vox/ Guitars], Maurice Seezer [Vox/Piano/Keys,/Accordian], John Fitzgerald [Bass/Upright Bass/B.Vox], Cal McCarthy [Drums], Anthony Noonan [Vox/Drums/Percussion/Guitar], Bertrand Galen [Cello], Marja Gaynor [Violin]
Occasional Current Guest Players
Darren McCarthy [Upright Bass], Colm McCaughey [Fiddle/B.Vox], Maurice Culligan [Vox/Piano/Keyboards] Ciara O'Driscoll [Vox/Guitar],   Sara Caccamo [Vox], Gavin Harte [Vox], Max Vearncombe [Vox/Guitar]
Past Band Members
Fergus O'Farrell [Vox/Piano/Keys/Guitars/Percussion/Programming], Colin 'Black' Vearncombe [Vox/Guitar/Banjo], Bernard Murphy [Fiddle], Kevin Murphy [Vox/Bass Guitar/Guitar/Cello], Colm McCaughey [Violin/Fiddle/Mandolin/Vox], Gavin Harte [Vox/Programming], Maurice Culligan [Vox/Keyboards/Piano], Cian Roche [Vox/Guitar/Bass Guitar], Justin Healy [Drums], Andrew Philpott [Drums/Programming], Gareth Forsyth [Guitar], Ronan Gleeson [Guitar], Paul Griffin [Guitar], Karl Penny [Drums], Darren McCarthy [Bass Guitar/Upright Bass], Billy Geharty [Drums], Richard Levis [Guitar], Jerry Fehily [Drums], Joey Pleass [Drums], Ray McCann [Drums], John Huxton [Drums], Willy Walshe [Drums]
Studio / Live Guest Players
Adele O'Dywer [Studio Cello], Alan Tobin [Live Vox/Guitar], Andy Wilson [Studio Musical Saw],
Christian Best [Studio Drums/Percussion], Colm Mac Con Iomaire [Live Fiddle], Conor Brady [Studio Guitars],
DanDan Fitzgerald [Live Percussion], Dave McCune [Studio Drums/Percussion], Deirdre Archibold [Live Vox],
Des Moore [Live Guitar], Donal Lunny [Studio Bazouki], Fred Parcell [Studio Trombone/Percussion],
Gareth Hughes [Live Upright Bass], Gavin Friday [Studio/Live Vox], Graham Hopkins [Studio/Live Drums],
Herbie Macken [Live Mandolin], Honor Heffernan [Studio Vox], Iarla ÓLionáird [Live Vox],
Ilse de ziah [Studio Cello], James Blennerhasset [Studio Bass Guitar/Upright Bass], Jerry Fish [Live Vox],
Joe Doyle [Studio/Live Bass Guitar/Upright Bass], Joe O'Leary [Live Vox], Julia Palmer Price [Live Cello],
Karl Odlum [Studio Drum Programming/Bass Guitar], Katell Keineg [Studio/Live Vox],
Kieran Kennedy [Studio/Live Guitar/Bass Guitar], Leo Barnes [Live Saxaphone],
Liam Ó'Maonlaí [Studio/Live Piano/Vox/Percussion], Maria Doyle Kennedy [Studio/Live Vox],
Maria McKee [Studio Vox], Mark Geary [Live Vox, Guitar], Marketa Irglova [Live Vox],
Mick O'Callaghan [Live Vox Guitar], Michael Blair [Live Percussion], Mundy [Live Vox/Guitar],
Jack O'Rourke [Live, Vox/Piano], Myles O'Reilly [Studio Synth], Nina Hynes [Studio/Live Vox/Guitar],
Niwel Tsumbu [Studio Guitar], Noreen O'Donnell [Live Vox/Percussion/Dancing],
Paul ' Binzer' Brennan [Studio/Drums], Paul Moore [Studio Bass Guitar], Ray Harmon [Studio Guitar],
Renaud Gabriel Pion [Live Cor Anglaise],Rob Bochnik [Studio Guitars], Robbie Casserly [Studio Drums],
Ruth O'Mahony Brady [Studio Piano/Keys/Vox], Steve Wall [Live Vox], Stephen Warbeck [Live Accordion/Piano], Sarah Horner [ Live Clarinet/Percussion], Michael McCormack [Live Vox], Andrea 'Caterino' Scarso [Live Vox/Washboard]